One of the questions I am regularly asked is what is the best system to use for a dropship website?
There are a few different options available at the moment on the marketplace, one of the newer options I have recently come across is SellerBot (available at SellerBot.com).
I managed to get in touch with the owners so that I could review their product.
There is also a demo of the e-commerce system available that you can preview as well.
You can see this at:
http://demo.sellerbot.com/admin
Username: demo
Password: demo
this area looks like:
—-
When you first log in you will see the dashboard. This area looks reasonably straightforward to use, the menu items are on the left-hand side of the screen and categorized by different headings.
You can also instantly see the key stats about your products including:
Most Searched Keywords
Most Found Products
Most Opened Products
Most Compared Products
If you scroll down the page even further, you will be able to see how your store has performed (in terms of sales).
This area gives a great snapshot of how your store is performing and conveniently displays the following:
Total Sales:
Total Sales This Year:
Total Orders:
No. of Customers:
Customers Awaiting Approval:
Reviews Awaiting Approval:
No. of Affiliates:
Affiliates Awaiting Approval:
The SellerBot dashboard does give you a simple overview of how your store is performing at any given time.
Products area.
Your products.
The product page can be accessed easily by clicking products > your products.
This displays a list of all the products that are currently loaded to the store. A great feature is the in-line editing that is available on this page. You can simply click on a product name, model, price, quantity or its status – type a new text or information and then click the update button to instantly save your changes.
This would be a great times saver as you can easily modify a number of products at the same time.
Is also a in a button that you can click if you need to modify the product even further. This area lets you not only change all the information about the product images but also assigned categories, create sales and discounts and even select 'related products' that will help you cross sell your items.
This area does seem very in depth so may take a few minutes to get used to, however the extra control that you receive is very beneficial.
Video of this area.
Categories.
The categories area seems very straightforward to use. You can easily add in new categories and subcategories or edit already live categories with a few clicks of the mouse.

Video of this area.
Product options.
The product options area may also take a bit of time to get used to, however again it does give a lot of control.
Product options area creates the different options that can be available for products (i.e. sizes, colours etc) these can then be displayed on each individual product page a drop-down box or as a check box.
To be even more controlled out our attribute and manufacturer areas as well which let you further group products together.
Video of this area.
Information.
There is a complete section for the information that is displayed on your website. It is split into two different areas depending on how the content is displayed on your website.
Information pages.
These are the static pages on your site that generally do not change
(i.e. about us, terms and conditions, privacy policy etc).
Video of this area.
Blog area.
The blog area lets you display news on your site. This is store by date with the newest entry and the older ones below it.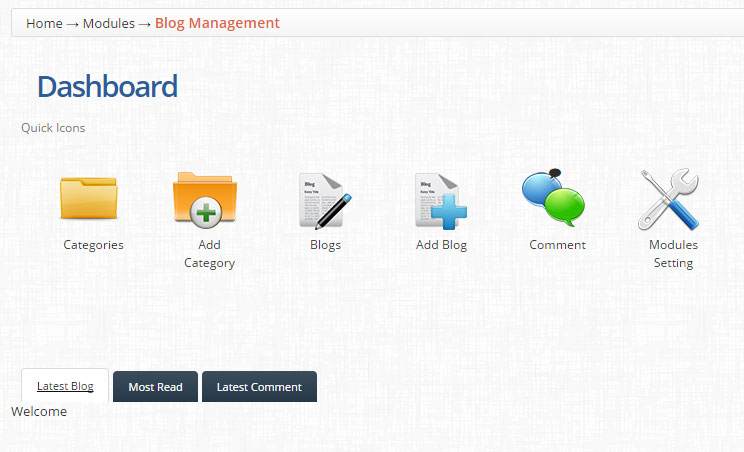 Extensions.